What States Is DraftKings Legal In?
DraftKings is one of the most familiar faces when it comes to sports betting and fantasy sports contests. Since the repeal of PASPA by the Supreme Court in 2018 which allowed legal sports betting online, the operator has become one of the most prominent online gambling options in the United States. Initially known for Daily Fantasy Sports contests (DraftKings DFS), DraftKings sport is now a fully-fledged all-around online sportsbook offering numerous sports gambling markets in multiple states. DraftKings, alongside other sites such as FanDuel Sportsbook, Caesars Sportsbook, and BetMGM Sportsbook, are the market-leading sports betting options in the country.
The legalities of sports betting and fantasy sports can be confusing. Luckily here at Gambler Saloon, we're here to help, and below you'll find all you need to know about what states DraftKings is legal in.
With the introduction of mobile betting, users can also use the DraftKings sportsbook app to bet on sports such as the NFL, NBA, and Major League Baseball on the go. In addition to retail DraftKings sportsbooks at locations such as Boots Hill Casino and Resorts Casino, you can access Las Vegas style odds betting on your favorite teams, and the betting app allows a greater degree of flexibility with a user-friendly design. However, you may not be aware of where sports betting legal markets are located, and therefore wondering what state is DraftKings legal in?
Is DraftKings Legal In The US?
DraftKings is now legal in multiple US states, with only a handful not having at least one of sports betting or fantasy sports available.
The states offering the DraftKings app have enjoyed a large amount of success from the revenue generated from bettors. The states currently offering DraftKings sportsbook legal services are:
Arizona
Colorado
Connecticut
Illinois
Indiana
Iowa
Kansas
Louisiana
Maryland
Massachusetts
Michigan
New Hampshire
New Jersey
New York
Ohio
Oregon
Pennsylvania
Tennessee
Virginia
Washington (Retail sports betting only)
West Virginia
Wyoming
We expect this list to grow in the near future.
States where DraftKings is not yet available
Although DraftKings has enjoyed huge success in many of the states listed above, there are some states where the sportsbook isn't available and some states that haven't yet legalized mobile sports betting. These states include:
Arkansas
Delaware
Maine
Montana
Nebraska
North Carolina
South Carolina
Rhode Island
South Dakota
States Where Sports betting is illegal
As mentioned above, there are states where you can't legally bet at all. There is no opportunity to place a bonus bet, cash in a DraftKings promo code or wager on the NFL playoffs and the Super Bowl. The states where wagering remains illegal are:
Alaska
Alabama
California
Florida
Georgia
Idaho
Kentucky
Minnesota
Missouri
New Mexico
North Dakota
Oklahoma
South Carolina
Texas
Utah
Vermont
Wisconsin
There has been talk of legislation that would allow voters to decide on sports betting in both Florida and California. There has not been any news of DraftKings will be able to enter the other states but we will keep this page updated as and when DK becomes available in new markets.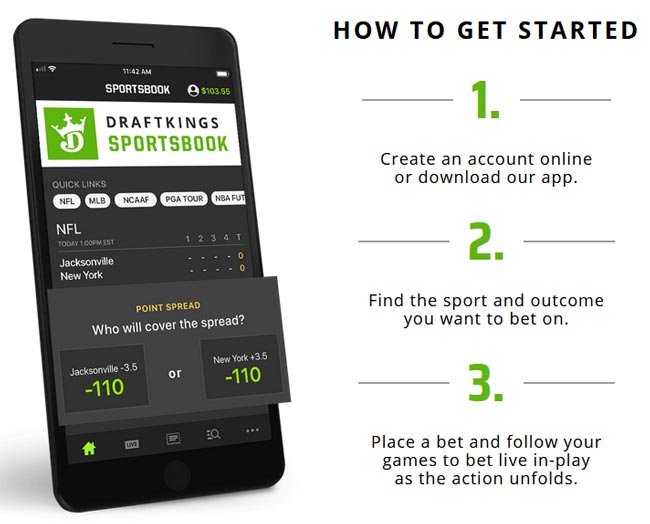 What States Can I Play DraftKings Fantasy?
Fantasy sports can be played in almost every state across the USA (read here what are Daily Fantasy Sports).
In only seven states, you can't play DraftKings fantasy leagues.
Surprisingly, Nevada is one of these despite being a major gambling capital and having adopted online casinos and online sports betting in more recent times.
The six states in which you are currently unable to play fantasy sports are:
Washington
Idaho
Montana
Nevada
Hawaii
Oregon
In every other state, daily fantasy sports with DraftKings is completely legal. This means it is entirely legal to play a DFS contest through DraftKings against your friends in most of the US. The DraftKings sportsbook legal options are numerous and hopefully, the list will grow even larger soon so players in more states can get their DraftKings bonus bets.
What States Can I Play DraftKings Sportsbook?
DraftKings Sportsbook is less accessible than fantasy sports as only a select few states have legalized sports betting.
At present, you can physically play DraftKings Sportsbook in 16 states. These are:
Arizona
Colorado
Connecticut
Illinois
Indiana
Iowa
Kansas
Louisiana
Michigan
New Hampshire
New Jersey
New York
Oregon
Pennsylvania
Tennessee
Virginia
West Virginia
Wyoming
The DraftKings Casino is also available in a handful of states. These are:
New Jersey
Pennsylvania
West Virginia
Connecticut
Michigan
The operator is looking to expand this list to join the new sportsbook states with the DraftKings sportsbook Maryland expected to launch soon.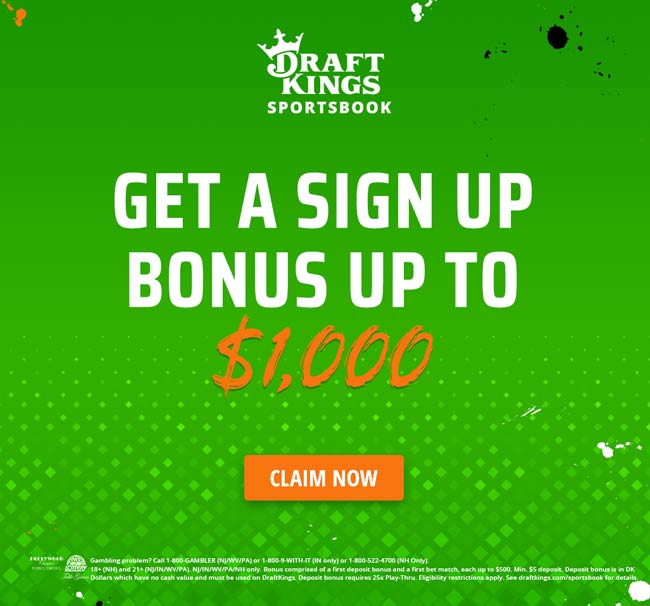 Sign Up To DraftKings Today!
DraftKings is one of the most popular Sportsbooks and fantasy sports sites in the USA.
The brand has received rave reviews since launching its Sportsbook, and it is undoubtedly a favorite here at Gambler Saloon.
Whether you're new to online Sportsbook or an experienced player, there are markets to suit all, and it really couldn't be easier to sign-up. They have plenty of welcome bonuses too, so you can even enjoy a free bet to start your betting with them.
Sound good? Sign up and start playing with DraftKings today! Creating a DraftKings sportsbook account is easy and you will be able to claim the bonus and bet online within minutes. DraftKings sportsbook states will cover all of the major domestic and international sports.
FAQs
What states can you use DraftKings sportsbook?
Legal online sports betting is growing across the United States. As more states legalize online sports betting, the DraftKings brand will continue to grow as more users flock to the platform. DraftKings is currently available in the following states: Arizona, Colorado, Connecticut, Illinois, Indiana, Iowa, Kansas, Louisiana, Maryland, Massachusetts, Michigan, New Hampshire, New Jersey, New York, Ohio, Oregon, Pennsylvania, Tennessee, Virginia, West Virginia, and Wyoming.
Is DraftKings sportsbook legal in Florida?
The state of Florida is yet to legalize mobile and online sports betting. DraftKings sportsbook launched a campaign to try and legalize online gambling in some states, including Florida, and the hope is legislation to allow online betting will appear in these states soon.
Is DraftKings legit?
DraftKings is one of the biggest gambling brands in the United States. It has signed exclusive partnerships with some significant sports teams and businesses in the country and has an excellent reputation. Sign up today and claim your welcome bonus worth up to $1,250. Additionally, new users can claim a bet $5, get $200 in bonus bets offer.