How To Bet On Virtual Greyhounds
November 22, 2022
83 Views
In recent times, Virtual sports have become extremely popular. A lot of people have also taken to virtual betting as a way to win real money. Here, you can place wagers on computer-generated matches and leagues. You can bet on virtual football, virtual tennis, and virtual horse racing. Virtual sports betting also brings you virtual greyhound racing – a completely new visual and betting experience. Virtual dog races has emerged as one of the popular betting options in the virtual sports betting market.
If punters can't find access to the real thing, they can wager on a computer-generated version of a dog race from the comfort of home. However, as betting on a virtual sport is still a relatively new concept to lots of bettors, there are still a lot of unknowns about what a virtual version of a sport entails.
Here at GamblerSaloon, we explain all you need to know about Virtual Dog racing and how to bet on them. These virtual dog racing tips will help you to make some money on these computer-based races and have an enjoyable experience while doing so.
What are Virtual Greyhounds?
The main goal of Virtual sports is to provide customers with new user experiences and entertainment. With extremely advanced and innovative graphics, virtual greyhounds don't compromise in providing a great visual experience and entertainment.
The virtual greyhounds are built with realistic graphics so they look like real greyhounds. The virtual greyhounds and the racetracks are modeled based on real-life racetracks. Therefore, it feels like you are standing next to a racetrack.
Virtual greyhounds' contests can run 24 hours a day and 7 days a week. In other words, a new greyhound race starts every 3 minutes or 5 minutes.
What's more, there is even commentary and crowd noises to add to the atmosphere. You can experience all this while sitting at home. Isn't it great?
Do you like to bet on real horses? Don't forget to check our free horse racing picks and predictions, which are updated daily.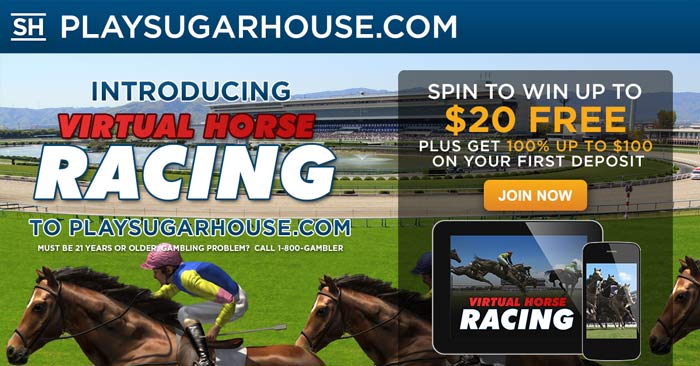 How does Virtual Greyhounds work?
Virtual Greyhound races are straightforward, and you do not need prior knowledge of real-life greyhound racing. As the greyhounds in the virtual race are computer-generated, you need not worry about its racing history.
Virtual greyhound racing is a pretty easy sport to get the hang of. It consists of six/eight dogs racing around an oval track. The first one past the finish line is the winner. Each race lasts barely a couple of minutes, and the action is fast and furious.
Not to mention, the result of the race is determined by advanced computer algorithms with random number generators. Therefore, there is no way to rig the game.
Simple sports with clear results make for good betting options, which is why virtual greyhound racing has come into being. Also, the animation layered on top provides an enhanced viewing experience and an authentic feel to proceedings.
You can stream the races in high-quality video, and you can bet 24/7; therefore, it is an endless source of gambling opportunities.
How to bet on Virtual Greyhounds?
Betting on virtual greyhounds is easy, and anyone can win or take part without the faintest idea of greyhound racing. If you don't want to explore all betting options, the simplest option is to pick a winner and hope that your dog comes in first.
Here are some more betting options for virtual races:
Place – Predict a dog to finish in first or second place. A place bet is the most straightforward bet type.
Show – Predict a dog to finish in first, second, or third position.
Each-way bet – Returns quarter of the odds if your dog comes in top two places
Forecast bet – Predict the dog which comes in first and second.
Tricast – Predict the top 3 greyhounds to finish the race.
Some online sports betting operators also offer trifecta and superfecta betting options. If you are familiar with betting on horse or dog racing, you may have your own betting strategy. Racing is one of the most prominent betting markets in the US, and combined with Esports betting has seen a big increase in activity recently.
With all the above betting options, follow the below steps to bet on virtual greyhounds:
Firstly, pick an online sports betting operator from the below paragraph.
Signup and log in to your account.
Go to the Virtual Sports – Greyhounds section
Select the odds/headings associated with the competitors you wish to wager on.
Click on the betting type and you can see the selections on the Bet Slip.
Finally, choose the amount of your wager, and place the bet.
Who offers Virtual Greyhounds in the US?
Betting on virtual greyhounds is possible in many brick-and-mortar casinos and sports betting outlets. Unfortunately, online virtual greyhound racing options are not yet available due to strict gaming laws in the US.
However, New Jersey has legal online virtual sports betting. Here are some of the top providers in New Jersey that offer online virtual greyhound racing:
Each betting site in New Jersey will offer some form of welcome bonus to try and attract new customers. These could range from a free bet to additional bet credits and more. Some of these above operators, along with some others, offer you to bet without money. So, don't forget to check them.
FAQs
What is the best betting option on virtual greyhounds?
The best option to bet on greyhound racing is to pick a dog and back it to win a particular race. There are no complications here, and you will win the bet if your dog comes first or lose the bet if it doesn't.
For playing safe, the tricast betting option is the best. If you choose this option, you will win even if your dog comes in first, second, or third. So, the chances of winning are more, but you will have fewer returns compared to other betting options.
How often do favorites win in virtual greyhound racing?
Usually, in real greyhound racing, favorites win around 42% of races. This isn't the same for virtual greyhounds. Because there are no real horses involved, and results are randomly generated.
Therefore, we can't predict the winner and bet on virtual greyhounds for the sole purpose of entertainment.
Disadvantages of virtual greyhound racing?
Although the virtual version of dog racing is appealing to many, there are some things to consider before you start betting on multiple races. Below are just some points to keep in mind, some virtual greyhound racing tips even:
The racing events are very frequent, which leads to a temptation to place more bets and spend more money.
As everything is computer-based, there are very few factors to analyze. Therefore, it takes away the thrill associated with betting.
Nothing is real, it only imitates the real concept of sports betting.
Is the winner of Virtual Greyhounds fixed?
The computer algorithm generates the outcomes of each virtual greyhound race that pick the winner in a non-bias way. In fact, the software which generates the result is subject to independent testing and scrutiny to ensure that the races are run fairly.